9 Day Machame Climb (Highlights)
Booking Dates
06/28/2023 through 12/20/2024
Travel Dates
01/01/2015 through 12/31/2024
Provider
Kensington Tours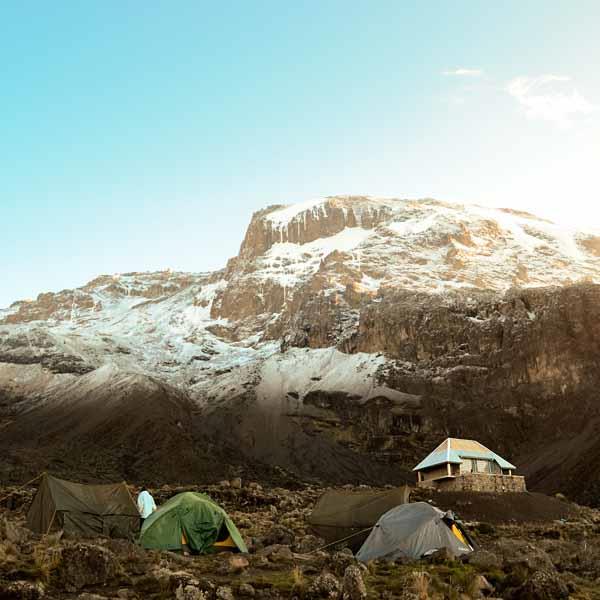 9 Day Machame Climb (Highlights)
Dawn arrives in shades of orange and blue; you will your legs to take one more step, one more; and then you see it, a simple sign with the word "Congratulations." As you look upon the quilted land far below you, a profound peace settles over your tired body; you've done it, you have climbed Kilimanjaro.
Feel the exhilaration as you become a member of an elite group, those who have stood on the highest point in all of Africa. The Machame route is challenging but the rewards are great, with sweeping views and a variety of striking habitats that stimulate your senses as you climb. Dirt trails snake through lush pine forests; moorlands give way to semi-deserts which give way to alpine deserts which, finally, give way to a rocky, ice-capped summit. Evenings on Kilimanjaro are meant for contemplation and star gazing, and you'll do both from your pup tent.
You'll slowly begin to ascend from the forest zone into the heath zone, allowing your body to acclimatize. As you make your way to the first camp, you'll bear witness to events some 60,000 years ago when a large section of the mountain collapsed. Continuing on, ascending into alpine desert, where the only green you'll see are tussock grasses and curious moss balls, you'll enjoy splendid views of Mawenzi peak. Depart just before midnight for the final summit bid so you reach the top as the first rays of dawn make their glorious appearance. Be sure to snap plenty of pictures so you can show the world what you've accomplished!
Kensington Tours offers local support in each region you visit, another reason we deliver unbeatable value. Enjoy a personalized vacation that best suits your needs, developed by one of our experienced destination experts. Relax during your trip with our 24/7 support and expert local guidance.
| Day | Description | View All |
| --- | --- | --- |
| Day 1 | Arusha | Details |
| Day 2 | Kilimanjaro To Arusha | Details |
| Day 3 | Kilimanjaro | Details |
| Day 4 | Kilimanjaro | Details |
| Day 5 | Kilimanjaro | Details |
| Day 6 | Kilimanjaro | Details |
| Day 7 | Kilimanjaro | Details |
| Day 8 | Kilimanjaro To Arusha | Details |
| Day 9 | Arusha | Details |